Learning to Ride a Bike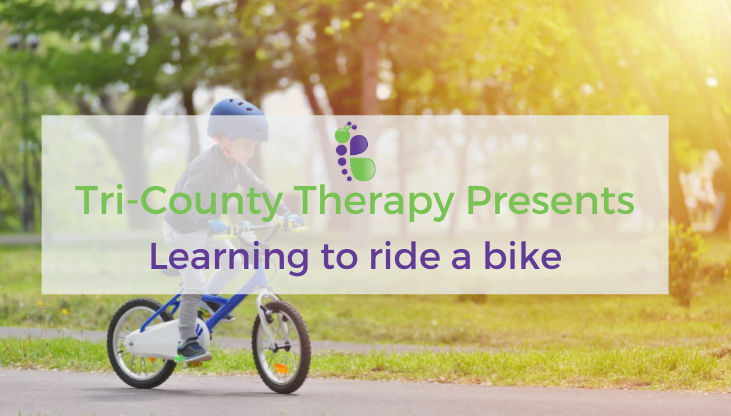 Learning to Ride a Bike
By: Kayla Rymer, PT, DPT
Children typically learn to ride a tricycle around age 3, and a bicycle sometime between the ages of 4 and 6. The tricycle teaches kids about coordinated movements, momentum, spatial awareness, and the confidence to ride a bicycle. When a child transitions from tricycle to bicycle with training wheels, they may struggle at first. The pedals on a bicycle require a greater downward force, which means your child needs increased quadricep, hamstring, and hip muscle strength. Additionally, bicycles require greater balance, trunk stability, body awareness, and vestibular system processing. Below are some tips and tricks to help your child gain independence when riding a bike.
Tips for Getting Started
Balance Bike
We often recommend kids start by riding a balance bike. Balance bikes have no pedals and will allow a child to gain confidence and feel their balance while they are moving. The seat height is adjustable, allowing your child's center of gravity to be lower to the ground. Your child will also learn to climb on and off, weight shift, and navigate their environment. Our favorite balance bikes include the Schwinn Balance Bike and Strider Balance Bike.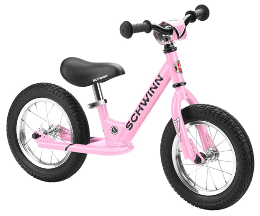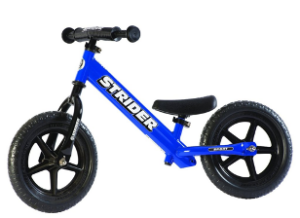 Finding The Right Size Bike for Your Child:
The bike should be less than 40% of your child's body weight
Your child should be able to straddle the frame and place both feet on the ground when their legs are straight
Ensure your child can grasp both handlebars comfortably with slight bend in their elbows
Pedaling Tips:
Secure the child's feet to the pedals; this allows your child to experience the revolution of the pedals as the bicycle moves forwards with external assistance
Practice wearing supportive shoes; it is important your child has a stable base to push off of
Some kids may only need verbal cues, while others may benefit from you assisting at their knees to push down to help them through the correct motions
Encouraging your child to pedal forwards instead of down can help some kids visualize the correct movement
What muscles are important to strengthen?
To propel forwards, the hip and knee extend pressing downwards on the pedal. This action requires quadricep and gluteus maximus muscle strength. These muscles are then joined by the hamstrings and calf muscles. These muscle groups make up the largest volume of muscles used in a pedal revolution.
Strengthening Exercises

Squats
Forward Lunge
Glute Bridges
Superman
Calf Raises